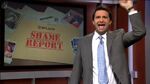 The Shame Report
is a weekly feature on NFL.com presented by
Dave Dameshek
that began its run after Week 7 of the 2010-2011 NFL season. The Shame Report is similar to the
Jerk List
, only that NFL players are shamed instead of being called jerks. Dave kicks off the list with "Let it begin!" and counts down the "top five" most shameful performances or occurances from the previous week's events from five to one and says, "Shame!" to them. He then proceeds to pleasure himself on camera, which frequently garners a "Shame!" from the camera man. Often, there are more than five shameful deeds done during the previous week.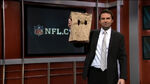 Like the Get out of Jerk Free card for the Jerk List, Dave hands out Get out of Shame Free cards to anyone he deems worthy to avoid their next shameful event. The week's number one on the Shame Report is awarded the Brown Paper Bag of Shame and is told to "wear it well" by Dameshek as he throws it out of view of the camera.
Beginning Week 1 of the 2012-2013 NFL season, it introduced the Fantasy Shame Report where fans report the most shameful decisions they made with their players online. Also is the first time that Dameshek himself worn the Brown Paper Bag of Shame.
The Shame Report (2010-2011 NFL Season)
Edit
| Week (Click to View) | (Length)/Description |
| --- | --- |
| Week 7 | (04:13) – Are you ashploed of your team's performance last week? Well, Dave Dameshek is. Find out if your team got written up. |
| Week 8 | (03:49) – Did your favorite player or team get written up on this week's shame report? Find out who's wearing Dave Dameshek's brown paper bag of shame. |
| Week 9 | (04:39) – Are you ashamed of your team's performance last week? Well, Dave Dameshek is. Find out if your team got written up. |
| Week 10 | (05:22) – Dave Dameshek shines the light on the shameful moments from Week 10. Did your team make the list? ... Oh, and he has a bone to pick with certain fans. |
| Week 11 | (05:42) – This week's report tackles everything from the unsightly to the unspeakable. Plus, find out which team gets a free pass. |
| Week 12 | (04:51) – Obviously, the fracas in Houston made the list. Did Rusty Smith? Find out whom Dave writes up. Plus: a special celebrity shame shout-out. |
| Week 13 | (05:51) – What do Michael Vick, "The most interesting man in the world," and Snooki all have in common? Easy, they're all in this week's "Shame Report." |
| Week 14 | (05:20) – Did Brett Favre, Mark Sanchez and Michael Vick autograph seekers make Dave Dameshek's naughty list? Find out on this week's Shame Report. |
| Week 15 | (06:44) – You knew Brett Favre and the Giants would make the list, but find out why Andy Reid is wearing a fur coat and Dave Dameshek is mad at Santa Claus. |
| Week 16 | (04:37) – Mike Singletary is no surprise, but find out why Tim Tebow and Deion's toe made the shame report. |
| Fantasy Shame Report | (03:56) – Find who disappointed this fantasy season, including Aaron Rodgers, Randy Moss and even Dave Dameshek. |
| Week 17 | (04:04) – Have we finally seen the end of Brett Favre? And find out why Nicholas Cage is on the list ... and which playoff QB looks like a member of the Bee Gees. |
| Wild Card Round | (05:17) – Dave Dameshek decides whether Michael Vick or Andy Reid is to blame for the Eagles' loss. Also: The reaction to the Saints loss and Dave's "Terrible" confession. |
| Divional Round | (05:41) – Dave Dameshek doles out some justice to Bill Belichick, Tom Brady and the rest of the divisional disappointments ... "Star Wars" style. Check it out! |
| Championship Round | (06:16) – Find out why Jay Cutler is a movie star in the making and what Dave thinks about Mark Sanchez's and Rashard Mendenhall's unsavory behavior on championship Sunday. |
| Super Bowl | (07:16) – Dave Dameshek opens the NFL Films Super Bowl vault to expose the white hot light of shame on some truly super moments. |
| Super Bowl XLV | (06:31) – Dave Dameshek shines the white hot light of shame on some shameful moments from Super Bowl XLV. |