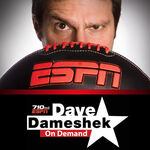 Dave Dameshek On Demand was a daily podcast hosted by Dave Dameshek released through 710 AM ESPN in Los Angeles. Dameshek on Demand was also featured on 1250 ESPN in Pittsburgh along with a weekly best of show every Sunday on the station's radio broadcast. The podcast ran from July 28, 2008 until November 11, 2009. The show initially started off with Dave hosting by himself, but over time he developed a sidekick and sometime arch-nemesis in Skylar "The Sass" Tobey. Regular guests included Ed Miller (better known to the Shek Republic as "The Ed"), "Cousin" Sal Iacono from the Jimmy Kimmel Show, "Show Humorist" David Feeney, Don Spagnolo from the Pittsburgh-centric sports blog MondesisHouse.com, ESPN Page 2's D.J. Gallo, Jonah Keri and "The Blue Horseshoe" Zach Rosenfield from Accuscore.com.
As the show progressed into 2009, Dameshek On Demand became a seperate, two-part show. This was due to the length of most shows going well over the 45 minute mark. The new split shows were referred to as 'Side A' and 'Side B' in honor of the idea of old cassette tapes and vinyl records that had to be turned over or flipped for one to be able to listen to an entire album.
Jerk List Controversy
Edit
The Jerk List was a weekly segment on Wednesdays where Dave blasted jerks and creeps in the back side of their souls with the Han Solo Edition Blaster for unruly and jerk-like behavior. After the Feburary 4, 2009 episode of Dave Dameshek On Demand, the fan favorite segment was inexplicably removed from the show. Though no reason was ever given by either Dameshek or ESPN, most people in the Shek Republic felt that it was ESPN's call to have the Jerk List removed from the show. Many fans were upset and dismayed by the sudden and unexplained removal of the Jerk List from Dameshek On Demand. The Jerk List would not return until Dave left ESPN and did The Dave Dameshek Show Powered By Accuscore.com podcast in November 2009, much to the delight of those in the Shek Republic.
Please note that due to the fact that the original host(s) no longer have the Dameshek On Demand shows available to download, all of the following links direct to files that have been uploaded to Media Fire. Sadly, some shows were missed in the process of saving and uploading to Media Fire.
Release Date
Guest(s)
Show Description
Listen
July 28, 2008
Dave Dameshek discusses various topics such as the Brett Favre situation, Pacman Jones, tailgating and more
Download
July 29, 2008
Brian Scalabrine
Dave Dameshek discusses Green Bay Packers situation and Lakers/Celtics plus, interviews Brian Scalabrine of the Boston Celtics
Download
July 30, 2008
Bill Simmons
Dave Dameshek and Bill Simmons discuss "Mad Men" and reveal the updated Jerk List

Jerk List: Bill Simmons, movies that have the line, "We've got company", Jeff Samardzija, back-to-school commercials

Get Out Of Jerk Free Card: The Brett Favre Saga

Creep Of The Week: Preseason football

Download
July 31, 2008
D.J. Gallo
Dave Dameshek talks with D.J. Gallo about "The Most Memorable Sports Years Ever" and the deal that brought Manny to LA
Download
August 1, 2008
Sal Iacono
Dave Dameshek and Cousin Sal of "Jimmy Kimmel Live" talk about their upcoming fantasy football draft and QB's Tony Romo and Brett Favre
Download
August 4, 2008
Dave Dameshek addresses the latest in the Brett Favre saga through song and tries to determine which QB will suffer "The Summer Jinx" next year
Download
August 5, 2008
Jonah Keri
Dave Dameshek talks to Jonah Keri about why K-Rod shouldn't win the American League MVP
Download
August 6, 2008
Dick Banks
Dave Dameshek and Dick Banks, the one man houseband, take down society's jerks and creeps with this week's Jerk List

Jerk List: whoever wrote the laws not allowing popular music on podcasts, the PGA, the NHL Network, Dave Dameshek, Manny Rameriez, Matt (listener), guys who get tattoos with words/phrases not in their native language, peanut-free zone fan section at Safeco Field, Bill Simmons

Get Out Of Jerk Free Card: Pizza, Dave Dameshek

Creep Of The Week: the NFL

Download
August 7, 2008
Sal Iacono
Dave Dameshek and Cousin Sal from "Jimmy Kimmel Live" discuss Brett Favre, fantasy football, and the "classiest" members of NFL teams
Download
August 8, 2008
Brian Long
Dave Dameshek enjoys "casual Friday" by discussing the NFL's most memorable players and the 2008 Beijing Olympics with Brian Long
Download
August 11, 2008
David Feeney
Dave Dameshek and his pal, Feeney, discuss obnoxious Red Sox fans and the worst sitcoms in TV history
Download
August 12, 2008
Frank Caliendo
Dave Dameshek is joined by comedian, Frank Caliendo to discuss John Madden's thoughts on Aaron Rodgers' debut at Lambeau Field
Download
August 13, 2008
Todd Gallagher
Todd Gallagher, author of "Andy Roddick Beat Me with a Frying Pan" joins Dave Dameshek for this week's Jerk List

Jerk List: Kobe Bryant, Bruce Springsteen, condescending people who act surprised that you don't watch a tv program, Chris Kaman, Becky Hammon

Get Out Of Jerk Free Card: Listener Andrew, Fatmata Fofanah, Mo Dameshek

Creep Of The Week: Morning sickness

Download
August 14, 2008
Kevin Hench
Dave Dameshek is joined by his pal, Kevin Hench to discuss the Olympics and to debate who is the second greatest wide receiver in NFL History
Download
August 15, 2008
Ed Miller (The Ed)
Inspired by Commissioner Goodell, Dave Dameshek unveils his plans for his "own" conduct policy and talks to his favorite listener, The Ed
Download
August 18, 2008
Rich Eisen
Dave Dameshek talks football and fatherhood with the NFL Network's Rich Eisen
Download
August 19, 2008
"Joe Paterno"
Dave Dameshek discusses untimely sports injuries, fan conduct, and Usain Bolt. Plus, Dave catches up with Penn State's legendary football coach, Joe Paterno
Download
August 20, 2008
Dick Banks
Dave Dameshek and the One-Man Houseband, Dick Banks, talk about Usain Bolt, U.S. Hoops, and Manu "Gi-floppy"". Plus, this week's Jerk List is revealed

Jerk List: Jeff Kent, MLB trade deadline, infomercials, Cincinnati Bengals, Chad Johnson

Get Out Of Jerk Free Card: everyone who listens to the podcast, Kurt from Ohio, the beginning of college football

Creep Of The Week: Viggo Mortensen

Download
August 21, 2008
Sal Iacono
Dave Dameshek and Cousin Sal talk about the upcoming NFL Season, The Olympics, and bratwurst consumption
Download
August 22, 2008
Brandon Dameshek (Cousin Brandon)
Dave Dameshek talks Olympics and enjoys a poem about Brett Favre penned by his Cousin Brandon
Download
August 25, 2008
Patrick Hruby
Dave Dameshek is joined by Patrick Hruby for a last look back at the Olympics
Download
August 26, 2008
Zach Rosenfield
Dave Dameshek is joined by ACCUSCORE.COM's Zach Rosenfield for a preview of the college football season
Download
August 27, 2008
Dick Banks
Dave Dameshek and the one-man house band celebrate the return of football and tend to this week's Jerk List

Jerk List: people who plan affairs you have to go to during football season, Jericho Scott Little League scandal, Dave Dameshek (2x), U.S. men's basketball team

Get Out Of Jerk Free Card: Michael Strahan

Creep Of The Week: Labor Day

Download
August 28, 2008
Paul Lukas
Dave Dameshek and Paul Lukas review the best and worst in college football uniforms
Download
September 2, 2008
Todd Gallagher
Dave Dameshek is joined by "Andy Roddick Beat Me With a Frying Pan" author, Todd Gallagher who issues a challenge to Michael Phelps
Download
September 3, 2008
The Dutch Mook
Dave Dameshek gets ready for the NFL kickoff with The Jerk List and a fantasy draft review with "The Dutch Mook"

Jerk List: New England Patriots, Bill Simmons, John/Becky Moores, parents of ugly babies

Get Out Of Jerk Free Card: Jerry Reed, Chad Ochocinco

Creep Of The Week: teams that got upset in week one of college football

Download
September 4, 2008
Sal Iacono
Dave Dameshek and Cousin Sal from "Jimmy Kimmel Live" offer their best "bets" of the weekend in the NFL and college football
Download
September 5, 2008
Don Spagnolo
Dave Dameshek and the creator of Mondeisishouse.com get you ready for week one of the NFL
Download
September 8, 2008
D.J. Gallo
Dave Dameshek re-assesses the Brady-less NFL with D.J. Gallo
Download
September 9, 2008
Adam Rose
Dave Dameshek gets ready for USC/Ohio State game this saturday with Adam Rose of the LA Times
Download
September 10, 2008
Natalie Coughlin
Dave Dameshek is joined in the studio by Olympic champ Natalie Coughlin. Dave also reveals this week's Jerk List

Jerk List: Lance Armstrong, Baby Oprah, Pittsburgh Pirates, LeBron James

Get Out Of Jerk Free Card: Felicia Young, Mo Dameshek, Roger Goodell, NFL

Creeps Of The Week: Adam Carolla & Jeff Ross

Download
September 11, 2008
Sal Iacono, Brandon Dameshek
Dave Dameshek and Cousin Sal give their "Best Bets" for this weekend's NFL and college games; plus Cousin Brandon's haikus
Download
September 12, 2008
Dick Banks, "Shaquille O'Neal", Ed Miller (The Ed)
Dave Dameshek is joined by Dick Banks, Shaq Fu, and "The Ed" for casual Friday
Download
September 16, 2008
"Joe Namath", A. Martinez
Dave Dameshek talks NFL with "Broadway Joe" and MLB with A. Martinez
Download
September 17, 2008
Thomas Neumann
Dave Dameshek talks to Thomas Neumann about his "Ultimate NFL Power Rankings"; plus this week's Jerk List

Jerk List: Ed Hochuli, DeShawn Jackson, people who didn't vote USC #1, Seattle sports fans who still cry about Super Bowl XL, Browns fans who think the Steelers are their rivals

Get Out Of Jerk Free Card: Seattle sports fans who don't cry about Super Bowl XL

Creep Of The Week: The Cookie Monster

Download
September 18, 2008
Sal Iacono, Zach Rosenfield
Dave Dameshek reviews the "Best Bets" of the football weekend with Cousin Sal from "Jimmy Kimmel Live" and Accuscore.com's Zach Rosenfield
Download
September 19, 2008
Don Spagnolo
Dave Dameshek visits with the Creator of Mondesishouse.com for a week three NFL preview
Download
September 22, 2008
D.J. Gallo
Dave Dameshek talks to D.J. Gallo plus, the weekly "NFL Playoff Pro-Shek-tions" and "Most...Awards"
Download
September 23, 2008
Marcellus Wiley
Dave Dameshek is joined by NFL Analyst Marcellus Wiley for some pigskin talk
Download
September 24, 2008
Jonah Keri
Dave Dameshek and Jonah Keri talk Favre, Millen, Pujols, the Ray's, and Radio Head; plus, this week's Jerk List

Jerk List: Jerk List theme music, old people who work past retirement age, male models who are portrayed as older men, Dave Dameshek, New England Patriots fans

Get Out Of Jerk Free Card: Teemu Selanne, Anaheim Ducks

Creep Of The Week: Bill Belichik and his deciples

Download
September 25, 2008
Sal Iacono, Zach Rosenfield
Dave Dameshek is joined by "Jimmy Kimmel Live's" Cousin Sal and Accuscore.com's Zach Rosenfield for the weekend's best bets in the NFL and college football
Download
September 26, 2008
Don Spagnolo
Dave Dameshek reviews the USC loss and gets ready for Monday Night Football with Don from Mondesishouse.com
Download
September 29, 2008
D.J. Gallo
Dave Dameshek reviews week four of the NFL with D.J. Gallo, plus, this week's "NFL Play-offs Pro-Shek-tions" and "Most...Awards"
Download
September 30, 2008
"Al Davis", A. Martinez
Dave Dameshek gets an explanation from Al Davis; plus, previews post-season baseball with A. Martinez
Download
October 1, 2008
The NFL gives Dave a lot to choose from on this week's Jerk List

Jerk List: Dick Stockton/TBS, MLB, Travis Henry, Jerry Jones, Terrell Owens, Cincinnati Bengals, Ricky Williams

Get Out Of Jerk Free Card: mothers who let their kids get out of school for sporting events, Jerry Jones

Creep Of The Week: Senility

Download
October 2, 2008
Sal Iacono, Zach Rosenfield
Dave is joined by by "Jimmy Kimmel Live's" Cousin Sal and Accuscore.com's Zach Rosenfield for this weekend's best bets in college and the NFL
Download
October 3, 2008
Don Spagnolo
Dave Dameshek is joined by the creator of Mondesishouse.com to talk playoff baseball, NFL, and the start of the NHL season
Download
October 6, 2008
Jonah Keri
Dave Dameshek is joined by Jonah Keri for a look back at the NLDS and a look ahead at the NLCS; plus, this week's NFL Playoff "Pro-Shek-tions"
Download
October 7, 2008
Joe Torre, Todd Gallagher
Dave jumps in the "Back to the Future" Delorean to re-visit his early season chat with Joe Torre; plus, Dave and Todd Gallagher discuss the short-term future of USC, the Colts, and the Halos
Download
October 8, 2008
Dave tackles T.O., O.J., the Rays and the Cubs on this week's Jerk List

Jerk List: Shawn Springs, Terrell Owens and all athletes who don't follow the rivalry code, Rays fans, Cubs, Alex Rodriguez, Mike Shanahan, Selvin Young, Dustin Pedroia, Bud Selig

Get Out Of Jerk Free Card: Jury that convincted O.J. Simpson

Creep Of The Week: Dodgers who get the seats behind home plate

Download
October 9, 2008
Sal Iacono, Zach Rosenfield
Dave discusses Pacman's latest misdeed and the "Best Bets" of the weekend with Cousin Sal and Accuscore.com's Zach Rosenfield
Download
October 10, 2008
Don Spagnolo, Richie Perkins
Dave catches up with Don from Mondesishouse.com and previews the NHL with Richie from greatballsoffire.blogspot.com
Download
October 13, 2008
D.J. Gallo
Dave breaks down another loony weekend of football with D.J. Gallo
No Audio
October 14, 2008
Eric Karabell
Dave is joined by fantasy guru Eric Karabell for fantasy football and post-season baseball talk; plus, this week's "Dead or Alive"
Download
October 15, 2008
Andy Staples
Dave takes down Pacman Jones, Ryan Seacrest, and Cleveland Browns' fans on this week's Jerk List; also, Sports Illustrated's college football writer, Andy Staples

Jerk List: Media for not telling who won the Pacman fight, Clinton Portis, Roger Goodell, Ryan Seacrest, scientists who aren't doing their job, peoploe who call bad things great, Darius Rucker, Kobe Bryant

Get Out Of Jerk Free Card: Playoff bunting

Creep Of The Week: Cleveland Browns fans

Download
October 16, 2008
Sal Iacono, Zach Rosenfield
Dave discusses the Cowboys' crazy week with Cousin Sal; plus, Dave, Sal, and Accuscore.com's Zach Rosenfield give their "Best Bets" of the weekend for the NFL and college
Download
October 17, 2008
Don Spagnolo
Dave gets ready for the weekend of football with Don from Mondesishouse.com
Download
October 20, 2008
D.J. Gallo
Dave and D.J. Gallo talk about the Cowboys' implosion, Hines Ward's "Too Rough" style, and the Regal Beagle
Download
October 21, 2008
Billy Johnson
Dave sacks Ohio State's national title hopes in this week's "Dead or Alive" and debates with Billy "White Shoes" Johnson on the NFL's Player Conduct Policy
Download
October 22, 2008
Dave discusses Favre, Polamalu, and Canseco on this week's "Jerk List"; plus, the best championship games that never were

Jerk List: Matt Millen/Detroit Lions, nightmares, coaches who ice the kicker, Terrell Suggs, Roger Goodell

Get Out Of Jerk Free Card: Troy Polamalu

Creep Of The Week: Jose Canseco

Download
October 23, 2008
Sal Iacono, Zach Rosenfield
Dave reveals the top 3 uniforms in the NFL; plus, this weekend's "Best Bets" in the NFL and College with Cousin Sal and Accuscore.com's Zach Rosenfield
Download
October 24, 2008
Don Spagnolo
Dave and Don from Mondesishouse.com get ready for a big weekend of football; plus, the debate of best TV bars continues
Download
October 27, 2008
D.J. Gallo
Dave and D.J. Gallo discuss the Cowboys, the Phillies, and the Samurai, Mike Singletary
Download
October 28, 2008
Tim Legler
NBA Analyst, Tim Legler joins Dave for an NBA preview; plus, this week's "Dead or Alive"
Download
October 29, 2008
Derek Fisher's foot, marching band equipment, MLB umpires, and fantasy basketball are all taken to task on this week's "Jerk List"

Jerk List: C.J. Brown, Marching band equipment left on the field, Derek Fisher's foot, ESPN.com's fantasy basketball, Dave Dameshek, staph infection

Get Out Of Jerk Free Card: ESPN.com's fantasy basketball

Creep Of The Week: MLB umpires

Download
October 30, 2008
Sal Iacono, Zach Rosenfield
Dave, Cousin Sal, and Accuscore.com's Zach Rosenfield give their picks for UT/Texas Tech, FLA/GA, Pats/Colts, and Titans/Packers in this week's "Best Bets"
Download
October 31, 2008
Don Spagnolo
Dave is joined by Don from Mondesishouse.com to discuss Joe Paterno, Joey Porter, and the best candy
Download
November 3, 2008
D.J. Gallo
Dave and D.J. Gallo discuss the Red Raiders, the putrid Raiders, and the dawn of the Brooks Bollinger era
Download
November 4, 2008
Dave assesses the National Championship picture, NFL backup QB's, and the state of the NHL in this week's "Dead or Alive"
Download
November 5, 2008
Cole Hamels
World Series MVP Cole Hamels joins Dave to talk Philly Cheesesteaks, fantasy football and his fear of getting stuck under Ryan Howard in a celebratory pile-up

Jerk List: Voting booths, NCAA & college football referees, Joey Porter, Brandon Marshall, Dave Dameshek, Brett Favre, Daylight Savings Time

Get Out Of Jerk Free Card: Barack Obama, Pittsburgh Steeler fans

Creep Of The Week: Al Davis

Download
November 6, 2008
Sal Iacono, Zach Rosenfield
Dave, Cousin Sal, and Accuscore.com's Zach Rosenfield cover Giants/Eagles, Titans/Bears, Bama/LSU, Ok. St/Texas Tech, and more in this week's "Best Bets"
Download
November 7, 2008
C.J. Brown, Don Spagnolo
Dave and "Trojan Download" co-host C.J. Brown discuss Brandon Marshall's glove; plus, Don from Mondesishouse.com sets the table for the weekend of football
Download
November 10, 2008
D.J. Gallo
D.J. Gallo helps Dave try and make sense of an increasingly bizarre NFL season; plus, analysis of the BCS mess
Download
November 11, 2008
Jonah Keri
Jack-of-all-trades, Jonah Keri joins Dave to discuss MLB hot stove, NCAA hoops, and the greatest movie of all-time
Download
November 12, 2008
Todd Gallagher
Todd Gallagher, the author of "Andy Roddick Beat Me With a Frying Pan" joins Dave in revealing this week's "Jerk List"

Jerk List: NFL replay system, John Moores & Becky Moores, MLB, Mike Martz, Bruce Ariens & Andy Reid, Todd Gallagher

Get Out Of Jerk Free Card: Chicago Bears coaching staff from early to mid 80s

Creep Of The Week: Roger Goodell

Download
November 13, 2008
Sal Iacono, Zach Rosenfield
Cousin Sal and Accuscore.com's Zach Rosenfield join Dave for the weekend's "Best Bets", including Cowboys/'Skins, Titans/Jags, and Texas/Kansas
Download
November 14, 2008
Don Spagnolo
Don of Mondesishouse.com joins Dave in discussing this weekend's NFL matchups
Download
November 17, 2008
D.J. Gallo
D.J. Gallo and Dave discuss Donovan McNabb's (lack of) knowledge of the rules, the 11-10 (or was it 17-10?) finish in Pittsburgh, and more NFL lunacy
Download
November 18, 2008
A. Martinez, Ed Miller (The Ed)
A. Martinez stops by with a sports fan quandry; plus, "Dead or Alive", the best team nicknames, and "The Ed"
Download
November 19, 2008
David Feeney
Dave tackles McNabb, Roethlisberger, Pedroia, and more on this week's "Jerk List"

Jerk List: Dustin Pedroia, Dave Dameshek, Adam in Iowa City, people who imitate the Terrible Towel, J.P. Hayes' caddie, officials who reversed Troy Polamalu's touchdown, David Feeney

Get Out Of Jerk Free Card: J.P. Hayes, officials who reversed Troy Polamalu's touchdown

Creep Of The Week: Donovan McNabb

Download
November 20, 2008
Sal Iacono, Zach Rosenfield
Cousin Sal and Accuscore.com's Zach Rosenfield join Dave with their "Best Bets" for Texas Tech/Oklahoma, Balitmore/Philadelphia, and more
Download
November 21, 2008
Don Spagnolo
Dave talks Thursday Night Football, the NFL's homestretch, and History's most under-reported sports stories with Don from Mondesishouse.com
Download
November 24, 2008
D.J. Gallo
D.J. Gallo joins Dave to discuss McNabb vs. Reid, Cassel vs. Brady, Lions vs. Dignity, and more
Download
November 25, 2008
Rich Eisen
The NFL Network's Rich Eisen joins Dave to talk about the "mess" in Philly, a potential Giants/Jets' Super Bowl, and the "sorry state" of Michigan football
Download
November 26, 2008
Dave determines who in the World of Sports has the most to be thankful for; plus this week's "Jerk List"

Jerk List: Mean Joe Coke commercial remake, people in L.A. who are afraid to drive in the rain, Montreal Canadiens, Bill Simmons & Sal Iacono, Dave Dameshek

Get Out Of Jerk Free Card: Notre Dame students, Dr. Clay King, Big XII conference

Creep Of The Week: Anyone who slows up while running into the end zone

Download
December 1, 2008
D.J. Gallo
D.J. Gallo joins Dave to discuss Plaxico, the BCS and why we don't eat more stuffing
Download
December 2, 2008
Jason Smith
"NBA Today" and "All Night" Host, Jason Smith joins Dave to talk Jets, LeBron, Lakers/Celts, and "Harris Smith"
Download
December 3, 2008
Dick Banks
Dave goes after Plaxico, Sean Avery, Chaz Weis, and Chocolate Pumpkin Pie on this week's "Jerk List"

Jerk List: Anyone who signs a ne'r do well and is surprised when they do a bad thing, males who wear jeans with buttoned pockets, listener John Kline, Dave Dameshek, Cindy Dameshek (Miss Cindy)

Get Out Of Jerk Free Card: Dave Dameshek, Graham Harrell, Cindy Dameshek (Miss Cindy)

Creep Of The Week: College football

Download
December 4, 2008
Sal Iacono, Zach Rosenfield
Cousin Sal and Accuscore.com's Zach Rosenfield talk Cowboys/Steelers, Sooners/Mizzou, and Gators/Tide in this week's "Best Bets"
Download
December 5, 2008
Don Spagnolo
Dave talks Romo vs. Roethlisberger with Mondesishouse.com's Don Spagnolo
Download
December 8, 2008
D.J. Gallo
D.J. Gallo covers his visit to Heinz Field for the Steelers/Cowboys' game; plus, the start of the "College Bowl Mania" contest
Download
December 9, 2008
Dave reviews the best town for sports fans, Gators/Sooners, Steelers/Ravens, the greatest movie band ever, and this week's "Dead or Alive"
Download
December 10, 2008
Jonah Keri
Dave and Jonah Keri go head-to-head in the first ever "Dameshek Debate"; plus this week's "Jerk List"

Jerk List: Jonathan Stewart & Steve Smith, anyone knows that the BCS was right in 2008, Santa Claus & reindeer, Paul in Chicago's wife

Get Out Of Jerk Free Card: Barry Melrose, Dominic Raiola, people who deal with extreme winter weather

Creep Of The Week: People who robbed Dave's house

Download
December 11, 2008
Sal Iacono, Zach Rosenfield
Cousin Sal and Dave make their picks for Giants/Cowboys and Steelers/Ravens. Also, Accuscore.com's Zach Rosenfield talks about a College Football playoff
Download
December 12, 2008
Don Spagnolo
Dave and Don from Mondesishouse.com break down the Big Games coming up this NFL Sunday
Download
December 15, 2008
D.J. Gallo
D.J. Gallo joins Dave talk T.O., Santonio Holmes, and the best defenses in NFL History
Download
December 16, 2008
Ed Miller (The Ed)
This week's "Dead or Alive" checks the well-being of the AFC, the NBA's Eastern Conference, and the NFL Pro Bowl; plus, Dave Calls "The Ed" with Season's Greetings
Download
December 17, 2008
Jonah Keri
Dave announces the Jerk List's "Creep of the Year"; plus, Page 2's Jonah Keri gives and MLB hot stove update

Jerks Of The Year: Kids who tell other kids that Santa isn't real, Donovan McNabb, Marian Hossa, wires of all kinds, Seattle sports teams, human babies, people who have ugly babies, Brett Favre, Roger Goodell, media coverage of Michael Phelps, Dustin Pedroia, New York Yankees, all NFL teams

Get out of Jerk Free Card: Cindi Dameshek (Miss Cindi), Dave Dameshek, New York Giants

Creep Of The Year: Viggo Mortensen

Download
December 18, 2008
Jon Hamm, Sal Iacono
"Mad Men" and "The Day the Earth Stood Still" star Jon Hamm discusses his favorite teams, Don Draper's Influence, and Bernie Federko's moustache; plus, Cousin Sal's "Bet Bets"
Download
December 19, 2008
Don Spagnolo, Ed Miller (The Ed)
Don from Mondesishouse.com weighs in on the NFL's big games; Plus, Dave and company do some caroling.
Not Available
December 30, 2008
Jon Hamm, Sal Iacono
Dave awards his NFL MVP and LVP and looks ahead to the start of the playoffs
Download
December 31, 2008
The Lakers, Bill Cowher, and Lil Wayne make the "Jerk List"; plus, this year's "SHEKy" Awards

Jerk List: Media who classified the Lakers' win against the Celtics as revenge, Skylar "The Sass", Steven Kravetsky, woman on flight from Pittsburgh to L.A., people who leave their lights up & radio stations who play Christmas music after Christmas

Get Out Of Jerk Free Card: Bill Cowher

Creep Of The Week: Lil Wayne

Revised Creep Of The Year: Roger Goodell

The Sheky Awards: Best Guest (Athlete) - Brian Scalabrine & Torii Hunter

Best Condiment - Bleu Cheese

Best Alternate Uniform - Pittsburgh Penguins blue sweater

Best Alphabet Letter - Q

Best Athlete Name - Teemu Selanne & Jonathan Chechoo

Best Hockey Player Song - I Want Cheechoo And Teemu

Best Show Moment - Jill Wagner interview

Best Dick Banks Song - I Didn't Hit No Woman

Best Uniform Matchup - USC v. UCLA in home jerseys

Best Fruit - Strawberry

Favorite Listener - The Ed

Download
January 2, 2009
Don Spagnolo
Dave and Don of Mondesishouse.com talk NFL MVP, the playoffs and the best Steeler jersey for a fan to wear
Download
January 5, 2009
D.J. Gallo
D.J. Gallo joins Dave to talk NFL playoffs and the best and worst player jerseys for a fan to own
Download
January 6, 2009
A. Martinez
A. Martinez talks Chargers/Steelers, his " Team-in-Law" and makes a moustache bet with Dave
Download
January 7, 2009
Zach Rosenfield, Ed Miller (The Ed)
MLB Hall of Fame voters, Matt Millen, and the BCS make the "Jerk List"; plus, Accuscore's Zach Rosenfield previews OU/Fla

Jerk List: Corky Simpson, Dave Dameshek, Jarkko Ruutu, Dave's friends who lost weight before the holidays

Get Out Of Jerk Free Card: Matt Millen

Creep Of The Week: BCS

Download
January 8, 2009
Casey Hampton, Sal Iacono
Steelers' nose tackle and Longhorn Alum Casey Hampton talks BCS and stopping Darren Sproles; plus, Cousin Sal's NFL Picks.
Download
January 9, 2009
Don Spagnolo, Richie Perkins
Dave gets emotionally prepared for Bolts/Steelers with Don from MondesisHouse.com and Richie from GreatBallsofFire.com
Download
January 12, 2009
Dave Denholm
Dave reviews the NFL's Final Four and talks to Browns' fan Dave Denholm about the pain of a Ravens/Steelers Title game
Download
January 13, 2009
The health of the NFL's playoff format is evaluated in "Dead or Alive"; plus, preparation for Championship Sunday continues
Download
January 14, 2009
Jeff Reed
Steelers' PK Jeff Reed talks about Sunday's AFC Title Game; plus, this week's "Jerk List" and the unveiling of Dick Banks' new song "Stairway to Seven"

Jerk List: NFC North, Darren Sproles, officials in Ravens/Titans game, Skyler "The Sass"

Get Out Of Jerk Free Card: Officials in Ravens/Titans game, Ricardo Montalbon, 2008 NBA draft class, Pittsburgh Mayor Luke Ravenstahl

Creep Of The Week: People who steal the terrible towel

Download
January 15, 2009
Sal Iacono, Guy Junker
Cousin Sal and Guy Junker join Dave to preview Championship Sunday
Download
January 16, 2009
Don Spagnolo, Zach Rosenfield
Don from MondesisHouse.com and Zach from Accuscore.com make their picks for Sunday's games
Download
January 19, 2009
D.J. Gallo
D.J. Gallo and Dave compare notes on their respective visits to Sunday's AFC title game
Download
January 20, 2009
Jonah Keri
Inspired by the Inauguration, Dave and Jonah Keri get to work on fixing the world of sports
Download
January 21, 2009
David Fleming
David Fleming joins Dave to debate on "What is the Greatest Sports Franchise of the last 50 years"; plus Ray Lewis makes the "Jerk List"

Jerk List: Dave's voice, Dumb fans, Players who seem just as happy losing as they are winning, dumping Gatorade on people, experts who think Ed Reed is better than Troy Polumalu, Claude Lemieux

Get Out Of Jerk Free Card: Chesley Sullenberger, Ted Koppel

Creep Of The Week: Ray Lewis/Jerry Jones/Dallas Cowboys

Download
January 22, 2009
Richie Perkins
GreatBallsOfFire.com's Richie Perkins breaks down Super Bowl XLIII; plus, Dave goes through some listener mail
Download
January 23, 2009
Don Spagnolo
Don from mondesishouse.com helps Dave figure out where Troy Polamalu's AFC Title Game T.D. ranks among history's all-time greatest plays
Download
January 26, 2009
Merril Hoge, Ron Jaworski, D.J. Gallo, Ed Miller (The Ed)
Merril Hoge and Ron Jaworski give Dave the 4-1-1 on Super Bowl XLIII; Plus, D.J. Gallo kicks off his week-long Super Bowl blog
Download
January 28, 2009
Jonah Keri, Ken Laird
Jonah Keri in this shoebox and Ken Laird in Tampa are talking Super Bowl; plus a "Super" Jerk List

Jerk List: Skyler The Sass, anyone who says, "it's x degrees, but xx degrees on the court/field", NHL/NBA All-Star games, flaws of the Super Bowl

Get Out Of Jerk Free Card: Hines Ward, Dave Dameshek

Creep Of The Week: Super Bowl Halftime Show

Download
January 28, 2009
Jonah Keri
Dave is joined by Jonah Keri for the unveiling of the first "Best Jersey for a Sports Fan by Sports Town". Today: Pittsburgh.
Download
January 29, 2009
Sal Iacono
Cousin Sal from "Jimmy Kimmel Live" joins Dave for some last-minute Super Bowl thoughts and predictions plus the a tribute to Steelers' head coach, Mike Tomlin
Download
January 30, 2009
Don Spagnolo, Zach Rosenfield
Don from Mondesishouse.com and Zach from Accuscore.com offer their final pre-Super Bowl Analysis
Download
February 2, 2009
Kevin Hench
Dave provides the definitive postscript to Super Bowl XLIII with the help of Fox Sports' Kevin Hench
Download
February 3, 2009
D.J. Gallo
The Lakers, The Steelers, and Michael Phelps are all diagnosed in this week's "Dead or Alive"; plus, D.J. Gallo shares his Super Bowl thoughts
Download
February 4, 2009
Ken Laird
Joe Torre and Big Ben haters make this week's Jerk List, plus Ken Laird talks Steelers

Jerk List: Manny Ramierez & Scott Boras, Joe Torre, guys who go on Dancing with the Stars, Instand Replay, Mike Perrera, Americans who don't watch the Super Bowl

Get Out Of Jerk Free Card: Larry Fitzgerald, Pittsburgh schools, Skylar The Sass

Creep Of The Week: Everyone who called Dave a homer

Download
February 4, 2009
A. Martinez
Dave is joined by A. Martinez to discuss the list of the best and worst jerseys for a diehard L.A. sports fan to sport around town
Download
February 5, 2009
Sal Iacono
Dave advises commissioners Goodell and Selig on how to improve their sports; Plus, "Jimmy Kimmel Live"'s Cousin Sal laments his Super Bowl wagers
Download
February 6, 2009
Don Spagnolo
Don from Mondesishouse.com puts a "bow" on the NFL season and looks ahead to spring
Download
February 9, 2009
Adam Carolla
Adam Carolla shares his thoughts on A-Rod, gambling on the Pro Bowl. Garo Yepremian, and more
Download
February 10, 2009
Stan Savran
Stan Savran talks about Big Ben's ribs and PEDs in MLB and in the NFL plus this week's "Dead or Alive"
Download
February 11, 2009
Jonah Keri
Jonah Keri provides historical perspective on A-Rod, Favre, and Alyssa Milano
Download
February 12, 2009
Jimmy Kimmel
Jimmy Kimmel talks about football Sundays, the Terrible Towel, the sports paparazzi, and more
Download
February 13, 2009
Tommy Lasorda
Tommy Lasorda talks World Baseball Classic, plus Dave debates how this season's All-NBA Team would fare against the best in history
Download
February 16, 2009
Ed Miller (The Ed)
Dave and The Ed review the NBA All-Star Game and consider a Kobe/Shaq Reunion
Download
February 17, 2009
Kevin Hench
Dave and his pal, Kevin Hench reluctantly discuss A-Rod's latest 'Spin" session
Download
February 18, 2009
Willie Parker, Brandon Graham
Fast Willie Parker talks Super Bowl XLIII, Tomlin vs. Cowher and whether he could go down as the Best #39 ever. Plus Brandon Graham weighs in on the NFL Draft
Download
February 19, 2009
Dave Denholm, Brian Long, Mo Dameshek, Ed Miller (The Ed)
Dave reviews the NBA Trade Deadline with Denholm & Long and previews the Oscars with Mo and The Ed.
Download
February 20, 2009
David Feeney
In honor of the Oscars, Dave and Hollywood Power Broker, David Feeney debate the greatest sports movies of all-time
Download
February 20, 2009
Bill Simmons, Kevin Hench
Bill Simmons and Kevin Hench join Dave to discuss the best and worst jerseys for a Boston fan to wear
Download
February 23, 2009
Richie Perkins
Dave and his pal Richie Perkins discuss the declining quality of play in today's major sports leagues
Download
February 24, 2009
Jonah Keri
Jonah Keri previews the AL East and analyzes the Big East; plus, this week's "Dead or Alive"
Download
February 25, 2009
D.J. Gallo
D.J. Gallo discusses the NFL Combine, throwing a "Catchable Ball", and his voicemail habits
Download
February 26, 2009
Sal Iacono, Chris Mack
Cousin Sal talks NFL, fantasy baseball, and churrascarias plus Chris Mack talks "Puck"
Download
February 27, 2009
Jonah Keri
Dave provides guidance to a fan in need plus a state-of-sports conversation with Jonah Keri
Download
March 2, 2009
J.A. Adande
J.A. Adande discusses the significance of the Prez drinking a beer at the Wiz game plus NFL free agency analysis
Download
March 3, 2009
A. Martinez, Joe Lunardi
Dave talks about Manny with A. Martinez and bracketology with Joe Lunardi
Download
March 4, 2009
Tim Legler, Don Spagnolo
Tim Legler talks Lakers, Shaq, and LeBron plus Don of Mondesishouse.com on the NHL trade deadline
Download
March 5, 2009
Adam Carolla
Adam Carolla analyzes why Kurt Warner stayed in Arizona, what's wrong with T.O., and how to know when you've arrived
Download
March 9, 2009
The Kamenetzky Brothers
Dave talks (and sings) about T.O.; plus, The Kamenetzky Bros. debate LeBron vs. Kobe and other NBA issues
Download
March 10, 2009
Rob Rossi
Dave debates which sports figures have the most pressure on them; plus, puck talk with Rob Rossi
Download
March 11, 2009
Eric Karabell
Eric Karabell advises Dave before the upcoming baseball draft
Download
March 12, 2009
Ed Miller (The Ed)
Its a "Cornucopia O'Fun" as Dave talks L.T., the best movies of '04, puts a call into "The Ed" and more
Download
March 13, 2009
Zach Rosenfield
Dave calls on Accuscore.com's Zach Rosenfield to help analyze this year's NCAA Tournament bracket possibilities
Download
March 16, 2009
Dave calls in from the maternity ward to make sure he gets his brackets in on time
Download
March 18, 2009
Jonah Keri
Jonah Keri offers his last-minute tips for filling out a successful bracket
Download
March 19, 2009
The Kamenetzky Brothers
The Kamenetzky Brothers return to discuss disgruntled Lakers, "tweeting" during halftime, shampoo vs. conditioner and more
Download
March 20, 2009
Ed Miller (The Ed)
Dave spends the podcast sweating out the PITT/ETSU game with "The Ed"
Download
March 23, 2009
D.J. Gallo
D.J. Gallo discusses Big East Dominance in the NCAA Tourney and sprinkles in some NFL talk, too
Download
March 24, 2009
Zach Rosenfield
Accuscore.com's Zach Rosenfield and Dave lay out the "best bets" for this upcoming Sweet Sixteen weekend
Download
March 25, 2009
Last-minute thoughts on the Sweet 16 plus Dave reviews the recent "odd" behavior of players' wives
Download
March 25, 2009
Marc Silverman
Marc Silverman joins Dave to debate Chicago's best and worst jerseys
Download
March 26, 2009
Dave and pals discuss the NFL Rule changes, the Draft, Tina Fey, and more on the latest "Potpourri" episode
Download
March 27, 2009
Jonah Keri
Jonah Keri previews the AL West from both a fantasy and real-life perspective
Download
March 30, 2009
Barry Goheen
Dave tries to get over his Elite Eight heartbreak at the hands of Scottie Reynolds and 'Nova by talking to another Pitt killer, Vanderbilt's Barry Goheen
Download
March 31, 2009
Brandon Graham, Scott Paulsen
Dave weighs in on Calipari to UK, talks to NFL Draft with Brandon Graham, and commiserates with Scott Paulsen
Download
April 1, 2009
Zach Rosenfield, Ed Miller (The Ed)
Dave, Zach Rosenfield of Accuscore.com, and "The Ed" give their Final four picks plus Dave unveils his best and worst uniforms of the tourney
Download
April 2, 2009
Jonah Keri
Jonah Keri joins Dave to talk about Jay Cutler to the Bears plus the guys break down the NL Central
Download
April 3, 2009
Jonah Keri
Jonah Keri and Dave continue their MLB preview by breaking down the AL Central
Download
April 6, 2009
A. Martinez
A. Martinez joins Dave to preview NL the west and make some MLB predictions
Download
April 7, 2009
Jacob Lentz, Paul Koehorst
"There's No "I" in Office" authors Jacob Lentz and Paul Koehorst talk about the NCAA Tourney, sports conversations in the office, the Masters, "team building" and more
Download
April 8, 2009
Mike Dell
In the latest edition of the potpourri show, Dave talks about beer at the ballpark, Tank Johnson to the Bengals, Tina Fey vs. 'Seinfeld's' Elaine, and more
Download
April 9, 2009
Dave discusses lame sports stats, the return of Bynum, outdoor hockey, declaring early for the NBA Draft and more
Download
April 10, 2009
Barry Melrose
With the NFL Draft just two weeks away, Dave's talking Sanchez, Raji, Broncos, Giants and more
Download
April 13, 2009
Dick Banks
Dave rejoices the start of the Stanley Cup Playoffs (especially Teemu vs. Cheechoo) and reviews Tiger vs. Phil
Download
April 14, 2009
Barry Melrose
Barry Melrose joins Dave to offer his Stanley Cup Play-off predictions
Download
April 15, 2009
Dave reviews some of the newly released NFL schedules and prepares for the drop of the playoff puck
Download
April 16, 2009
Teemu Selanne
Dave reviews an eventful sports day then serenades Teemu Selanne of the Anaheim Ducks
Download
April 17, 2009
Zach Rosenfield, Kamenetzky Brothers
Dave talks NBA Playoffs with Accuscore.com's Zach Rosenfield and the Kamenetzky Bros; plus, there's a new Land of the Fox resident
Download
April 20, 2009
Mark Sanchez
First-round-pick-to-be Mark Sanchez talks about the possibility of being a Detroit Lion, how USC would do against NFL teams, what he'll do with the money and more
Download
April 21, 2009
Matt Williamson
Matt Williamson analyzes the first round of the NFL Draft; plus, Dave reviews the movies he's got Tivo'd at home
Download
April 22, 2009
Beto Duran
Laker Insider Beto Duran talks about the inevitable LA Kobes vs. Cleveland LeBrons Finals; plus, Dave bids farewell to one his favorites, Dikembe Mutombo
Download
April 23, 2009
D.J. Gallo
D.J. Gallo talks NFL Draft issues from top to bottom, including the Lions' top pick, who the Steelers might take and why and Andre Smith should wear a shirt
Download
April 23, 2009
Brandon Graham, "Mel Kiper, Jr."
Dave and draft guru Brandon Graham are joined by a special guest for their NFL mock draft
Download
April 24, 2009
Barry Melrose
Hockey guru, Barry Melrose breaks down round one of the puck playoffs
Download
April 27, 2009
Matt Williamson
Matt Williamson breaks down the winners and losers in the NFL Draft
Download
April 28, 2009
Dave puts the finishing touches on round one of the NBA and NHL playoffs and looks ahead to round two
Download
April 29, 2009
John Buccigross
John Buccigross and Dave make their picks for what figures to be a thrilling second-round of the NHL Playoffs, plus Dave discusses the recent NBA violence
Download
April 30, 2009
Jonah Keri, Joe Mead
Jonah Keri and Joe Mead join Dave to discuss the NBA Playoffs, the most exciting play in baseball, and the state of sports media, plus Dave tells the tale of his run-in with Wayne Gretzky
Download
May 1, 2009
Dave admits to being wrong about the NBA Playoffs and gets ready for the titanic Pens/Caps matchup
Download
May 4, 2009
Dave belatedly fills out his NBA MVP ballot
Download
May 5, 2009
With the help of his pals, Dave tries to figure out where the Lakers and Pengins go from here in round two
Download
May 6, 2009
D.J. Gallo
D.J. Gallo weighs in on the latest Favre foolishness; plus, Dave gets an answer on his fantasy baseball trade proposal
Download
May 7, 2009
Zach Rosenfield, Chris Mack
Dave talks Kobe vs. Artest, Manny vs. Credibility and Crosby vs. Ovechkin with Accuscore's Zach Rosenfield and Chris Mack
Download
May 8, 2009
David Feeney
Dave and his pal David Feeney talk Manny, the '02 AFC title game, summer movies and awful prom stories
Download
May 11, 2009
Dave details why the next month is essential for Kobe Bryant's legacy
Download
May 12, 2009
Jonah Keri
Jonah Keri weighs in on the significance of Pens/Caps game seven, the Lakers chances of winning a title, the most surprising teams so far in MLB and more
Download
May 13, 2009
Beto Duran
Dave talks with Lakers reporter Beto Duran about what goes on in an NBA playoff locker room, Dwight Howard's complaints, Mario Lopez's curse on the Lakers, and more
Download
May 14, 2009
Ed Miller (The Ed)
Dave reviews the classic Pens/Caps series and duels with a listener in the Sports Trivia Showdown
Download
May 15, 2009
Zach Rosenfield
Accuscore.com's Zach Rosenfield projects who'll win the upcoming NBA and NHL playoff series
Download
May 18, 2009
Jason Smith
Radio host and 'Canes fan, Jason Smith, joins Dave to make a friendly bet on the Carolina/Pittsburgh series; plus a look ahead to the NBA Conference Finals
Download
May 19, 2009
Greg Wyshynski
Puck Daddy's Greg Wyshynski weighs in on the Stanley Cup Playoffs, and the podcast ends with a genuine earthquake
Download
May 20, 2009
D.J. Gallo
D.J. Gallo joins Dave to talk about the possible returns of Brett Favre and Michael Vick to the NFL
Download
May 21, 2009
A. Martinez, Ed Miller (The Ed)
Dave and A. Martinez initiate a plan to help the Clippers wash off their shameful past and The Ed makes a visit to the show
Download
May 22, 2009
David Feeney, A. Martinez
Dave and his pal, Feeney, plan their trip to Dodger Stadium, discuss new team mascots for the Clippers, debate the best breakfast meat and more
Download
May 22, 2009
Don Spagnolo
Don Spagnolo joins Dave for a special Pittsburgh-centric podcast
Download
May 25, 2009
Matt Williamson
Scouts Inc's Matt Williamson joins Dave to discuss whether LeBron could make it in the NFL, and why we don't see more guys like Antonio Gates giving pro football a shot
Download
May 26, 2009
Dave Denholm
Dave Denholm joins Dave to breakdown the suprisingly competitive NBA Conference Finals
Download
May 27, 2009
Richie Perkins
Dave is forced to render a verdict on Bill Cowher's first-degree betrayal of Pittsburgh during the Stanley Cup Playoffs
Download
May 28, 2009
Jonah Keri
Jonah Keri joins Dave to talk NBA Conference Finals, NBA officiating, Wings/Pens, "Star Trek" and more
Download
May 29, 2009
Greg Wyshynski
Puck Daddy's Greg Wyshynski joins Dave to break down the Wings/Pens Stanley Cup rematch
Download
June 1, 2009
Jason Smith, Uncle Mike Dameshek
Dave tries to overcome his grief caused by the Stanley Cup Finals to talk Lakers/Magic and Lebron's choice in ballcaps
Download
June 2, 2009
D.J. Gallo
D.J. Gallo discusses whether a fan's bias has any place in the sports media; plus, are the Lakers a disappointment if they don't win the title?
Download
June 3, 2009
Beto Duran
Preview and predictions of Lakers/Tricks with ESPN NBA reporter Beto Duran
Download
June 4, 2009
A. Martinez
With the NBA Finals tipping off across the street, Dave is analyzing the series, the importance of this title to Kobe's legacy, good new names for the Clippers, the best Dangerfield movie, and more
Download
June 5, 2009
Mike Dell
If you like your superstars rising to the occasion instead of crumbling, Thursday night was an embarrassment of riches (Thanks Kobe, Crosby & Malkin)
Download
June 8, 2009
Dave reviews Courtney Lee's missed opportunity, the likelihood of a Lakers' sweep, the Stanley Cup Finals and introduces two new terms for the world of sports
Download
June 9, 2009
Ed Miller (The Ed)
Perhaps inspired by the NBA and Stanley Cup Finals, Dave takes on The Ed in the sports showdown for the ages
Download
June 10, 2009
Beto Duran
Lakers reporter Beto Duran checks in from Orlando to discuss the mental toughness the Lakers and Tricks need to deal with the ups and downs of the NBA Finals
Download
June 10, 2009
Greg Wyshynski
Wed. Doubleheader Part II: Puck Daddy's Greg Wyshynski covers every angle of Game 7 of the Stanley Cup Finals, including Crosby, Hossa, the Flower & Nik Lidstrom's unusual injury
Download
June 10, 2009
Don Spagnolo
Don from MondesisHouse.com joins Dave in a special Pittsburgh-centric podcast reviewing and previewing the Stanley Cup finals
Download
June 11, 2009
Dave gets mentally and emotionally prepared for one of the biggest games of a sports fan career, Pens/Wings game seven
Download
June 12, 2009
Dave gives last rites to the Orlando Tricks' title chances and peforms the autopsy on the final 11 seconds of Game 4
Download
June 15, 2009
Part One: The Penguins win the Stanley Cup on Friday night
Download
June 15, 2009
Part Two: The Lakers win the NBA Title on Sunday night
Download
June 16, 2009
D.J. Gallo
D.J. Gallo debates the best and worst-sport town for 2009, and the role Boston plays in the equation
Download
June 18, 2009
Sal Iacono
Jimmy Kimmel Live's Cousin Sal and Dave are talking Favre, the Cowboys, getting ready for fantasy football, the Lakers, Artie Lange and more
Download
June 19, 2009
Jonah Keri
Jonah Keri discusses the role one's father plays in our team allegiances plus ways to jazz up the NBA off-season, thoughts on breakfast food and more
Download
June 22, 2009
David Feeney
Part one of the Summer Series with Show Humorist David Feeney. Topics include the '09 City of Champions, Artie Lange, and America's hatred of puck
Download
June 23, 2009
David Feeney, Cindi Dameshek
Part two of the Summer Series with Show Humorist David Feeney with topics including Feeney's recent visit to Dodger Stadium and the Dameshek home
Download
June 25, 2009
David Feeney
Part three of the Summer Series with Show Humorist David Feeney: Feeney, the Red Sox fan, addresses Papelbon's willingness to play for the Yanks and other athlete betrayals
Download
June 29, 2009
Zach Rosenfield
Accuscore's Blue Horseshoe returns for Part Two of the midsummer's primer on '09 college football
Download
July 6, 2009
Dave returns from his two-week vacation to find the sports world-and real world-in disarray
Download
July 7, 2009
A. Martinez
Part one of Dave's 80's vs The Aught's debate addresses which decade offered better college football, college hoops, baseball, and golf
Download
July 8, 2009
A. Martinez
Part two of Dave's "80's vs. The Aughts" debate looks at the effect of the USFL on the NFL; Bird's Celts/Magic's Lakers vs. teams of today; and which decade offered the better movies
Download
July 8, 2009
Dave and the Sass give their nominees for "the greatest entertainer of all-time" in sports and beyond; plus, thoughts on Manny, Ochocinco and Artest
Download
July 9, 2009
In the latest potpourri show, Dave discusses his pie-shaped face; Yankee Stadium; "hoodalizing" the Lakers; sports jerseys in movies; and much more
Download
July 10, 2009
Ed Miller (The Ed)
Dave calls The Ed for his thoughts on Artest and the Lakers, plus another Sports Trivia Showdown
Download
July 13, 2009
Instead of complaining that fans get to vote for the MLB All-star Game, Dave encourages the sports world to further empower the fans; plus, the return of "Hypothetical Horatio"
Download
July 14, 2009
It's the All-Star Potpourri show, with thoughts on Dave's visit to the Playboy Mansion, the All-Star festivities, the birthday of the Bad News Bears' best player, sports jerseys in movies, and more...
Download
July 15, 2009
Jonah Keri
Jonah Keri is the guest on Dave's Sports Alphabet Show, with discussion of MLB at the break, A.I., L.O. and the BCS
Download
July 16, 2009
Zach Rosenfield, Cindi Dameshek (Miss Cindi)
Accuscore's Blue Horseshoe returns for college football talk, including which teams will play in the BCS title game and which of the high-profile QBs will fare best in the NFL; plus, the debut of a Twitter-based sports game!
Download
July 17, 2009
David Feeney
Part one with Show Humorist David Feeney: discussion includes Manny's return; Dave's new workout regimen; and dinner plans
Download
July 17, 2009
David Feeney
Part two with Show Humorist David Feeney: discussion includes Obama's sad throwing form; analysis of Bryan Adams and Billy Ocean, forgotten pop icons of the 80's; and Dave's response to the Sports Guy's list of Best Movies of the 21st Century
Download
July 20, 2009
Carlo The Intern
Dave breaks down Tom Watson's nearly-historic win; plus, this week's "Hypothetical Horatio" crime scene at the golf course
Download
July 20, 2009
Carlo The Intern
On the heels of Rick Reilly's top 10 sporting events fans need to see live, Dave offers his list of the events every fan should avoid
Download
July 21, 2009
D.J. Gallo
D.J. Gallo discusses Vick, the NFL's Player Conduct Policy, the musical conglomerate that now owns the Dolphins and more
Download
July 21, 2009
Dave's pre-season NFL Pro-Shek-tions begin with a breakdown of the AFC West
Download
July 22, 2009
Ed Miller (The Ed)
Dave and The Ed square off in a sports trivia showdown for the ages; plus how Mike Vick and Roger Goodell's meeting might sound
Download
July 22, 2009
Dave continues his NFL Pro-Shek-tions, focusing on the NFC South
Download
July 23, 2009
With the LeBron, Vick and Roethlisberger stories dominating the headlines, Dave finally acknowledges that Agassi was right: Image is everything
Download
July 23, 2009
Mike Logan, Mark Viviano
Former Steeler/1250 ESPN host Mike Logan and Mark Viviano of Baltimore's ESPN Radio 1300 provide perspective on the Ben Roethlisberger story
Download
July 24, 2009
Beto Duran
Beto Duran joins Dave to examine the relationship between Lamar Odom and the Lakers; plus, the inside scoop on the "perks" of being a professional athlete on a road trip
Download
July 27, 2009
With so many items to discuss (the moral challenge of rooting for the Red Sox or Yanks; T.O.'s thoughts on the Vick suspension; Tour de France' Cool Whip vs. Readi-Whip), it's time for the latest potpurri show
Download
July 27, 2009
This week's edition of " Hypothecial Horatio" focuses on the mysterious case of the Miami Dolphins' mascots
Download
July 28, 2009
"Chris Berman", "Mel Kiper, Jr."
With Sports Guy Simmons now on-board, re-naming the Clippers takes on a new life; plus, Favre, Vick. T.O. and the UFL
Download
July 29, 2009
In response to Commissioner Goodell's Fan Conduct policy, Dave unveils his own version...For the People, By the People!
Download
July 30, 2009
Dave weighs in on the reports that Big Papi and Manny tested positive for PED's in 2003; plus, citizens of the Shek Republic propose amendments and additions to the Fan Conduct Policy
Download
July 31, 2009
Jonah Keri
In Part One of DD's MLB Trade Deadline Special, Dave and Jonah Keri discuss the winners and losers in the AL, while also taking a moment to scoff at the Red Sox's attempt to play the role of the victims
Download
July 31, 2009
Jonah Keri
In Part Two of DD's MLB Trade Deadline Special, Dave and Jonah Keri focus on the NL, including a discussion about who now stands as the league's best team: the Phillies or the Dodgers
Download
August 3, 2009
Trace Smith
In Part One, Dave welcomes a citizen of the Shek Republic into Studio 66 to discuss, among other issues, the 50 greatest coaches in history
Download
August 3, 2009
Trace Smith
Part Two, in this week's "Hypothetical Horatio", the World Series of Poker turns deadly
Download
August 4, 2009
A. Martinez
In Part One, A. Martinez joins Dave to analyze whether either or both the Dodgers and Halos should be favored to get to the World Series
Download
August 4, 2009
A. Martinez
Part Two, A. Martinez helps Dave determine the highest combined weight of a pitcher/batter matchup in MLB history; plus, A. explains what a "team-in-law" is
Download
August 5, 2009
Eric Karabell
In Part One, Fantasy guru Eric Karabell joins Dave to provide the need-to-know info for everyone preparing for their fantasy football draft
Download
August 5, 2009
Part Two, Dave unveils (most of) his list of history's greatest movie fights; plus, Dave ranks the '04 Draft trio of Eli, Rivers and Roethlisberger
Download
August 6, 2009
Trace Smith, Ed Miller (The Ed)
Dave unveils his Top Five Best Movie Fights of All-time, plus, faces the Ed in the latest Sports Trivia Showdown
Download
August 7, 2009
Trace Smith
Dave turns his gaze to the AFC South as the NFL pre-season ProSHEKtions roll on
Download
August 10, 2009
Time for another Sports Potpourri show as Dave addresses the possibility of the NFL's first two-time dynasty; T.O.'s new team; Tom Brady on 'Entourage'; Josh Hamilton; and more
Download
August 10, 2009
In this week's 'Hypothetical Horatio', murder tarnishes the Pro Football Hall of Fame
Download
August 11, 2009
Dave Denholm
Time for another Sports Potpourri show as Dave addresses the possibility of the NFL's first two-time dynasty; T.O.'s new team; Tom Brady on 'Entourage'; Josh Hamilton; and more
Download
August 11, 2009
In Part 2, Dave conducts the show's first-ever (Multi-)Media Day
Download
August 12, 2009
As part of Page 2 series "Tough Sports", Dave recounts the most traumatic moments of his less-than-illustrious high school basketball career
Download
August 13, 2009
Zach Rosenfield
In Part 1, with just three weeks left 'til kickoff, Accuscore's Blue Horseshoe weighs in on whether Tebow will go down as the greatest college player of all-time, USC, the Irish, and more
Download
August 13, 2009
In Part 2, Dave laments what the beer thrown at Wrigley will mean for future Cubs' fans; plus,an AFC North preview
Download
August 14, 2009
Ed Miller (The Ed)
With the scoreboard now set at 4-2 in favor of The Ed, can Dave salvage some shred of his dignity, or will The Ed once again prevail in the ultimate series of sports knowledge battles?
Download
August 17, 2009
Vick, Bolt, Yang, Woods, Favre and other athletes who have monosyllabic surnames are the topics in Dave's latest Potpourri podcast
Download
August 18, 2009
Jonah Keri
Jonah Keri and Dave provide counsel for Vikings, Packers, and Eagles fans on the complicated emotions recent events have brought on
Download
August 18, 2009
Jonah Keri
Jonah Keri and Dave discuss what Stephen Strasburg means to the Nats: why fans rooted for Tiger over the underdog; and a review of the "Mad Men" season premiere
Download
August 19, 2009
"Chris Berman", "Mel Kiper, Jr."
Foul play is a given when a high-powered agent's body is discovered in this week's round "Hypothetical Horatio"
Download
August 20, 2009
D.J. Gallo
With less than three weeks 'til the NFL kickoff, DJ Gallo joins Dave to talk Plaxico, Brandon Marshall, JaMarcus Russell, sex changes, and more
Download
August 21, 2009
A. Martinez
With the help of fashion consultant A. Martinez, Dave ranks the best uniform matchups in the NFL; plus, the sad state of the Dodgers
Download
August 24, 2009
Dave moves the Jerry Jones/Cowboys Stadium scoreboard fiasco to the top of the "Biggest Sports Screwups in '09" list
Download
August 25, 2009
Matt Williamson
Scouts, Inc & ESPN.com's Matt Williamson talks NFL X's & O's, analyzing the Packers' D, the Steelers o-line, TO's new team, the NFC East and more as kickoff draws ever closer
Download
August 26, 2009
Ed Miller (The Ed)
Dave discusses Pitino and Favre's feeble attempts to control public opinion; plus, another round of the Sports Trivia Showdown vs. The Ed
Download
August 26, 2009
This week's 'Hypothetical Horatio' focuses on the case of the punter pushed from the top of a Jumbotron
Download
August 27, 2009
Ed Cunningham, Zach Rosenfield
Side A of Dave's College Kickoff Spectacular w/ESPN analyst Ed Cunningham and Accuscore.com's Blue Horseshoe
Listen
August 27, 2009
Ed Cunningham, Zach Rosenfield
Side B of Dave's College Kickoff Spetcacular w/ESPN analyst Ed Cunningham and Accuscore.com's Blue Horseshoe
Download
August 28, 2009
Zach Rosenfield
Accuscore.com's Blue Horseshoe, Zach Rosenfield, joins Dave to point out the flaws of each team in college football's preseason Top 10
Download
August 31, 2009
Sal Iacono
Cousin Sal joins Dave as the NFL pre-season ProSHEKtions continue with a look at the NFC East
Download
September 1, 2009
Chris Collinsworth
New "Sunday Night Football" analyst Chris Collinsworth talks AFC favorites; Vikings; fantasy football; replacing a legend, and more
Download
September 2, 2009
Zach Rosenfield
Dave and Accuscore's Blue Horseshoe make their picks for college football's first weekend; plus, how many NFL players can your wife name?
Download
September 2, 2009
This week's "Hypothetical Horatio" investigates the mysterious death of a sports podcaster
Download
September 3, 2009
In honor of college football's arrival, Dave lists the reasons why the collegiate game trumps the NFL; plus, thoughts on LT and his rank among current NFL players
Download
September 4, 2009
Rob Neyer, Jonah Keri
ESPN.com's Rob Neyer and Jonah Keri talk Yanks, Tigers & Halos; Cy Young favorites; why pitchers can't hit; and more on Side A of Dave's baseball bonanza
Download
September 4, 2009
Rob Neyer, Jonah Keri
ESPN.com's Rob Neyer and Jonah Keri turn their gaze to Dodgers, Cards & Phils; MVP faves; the Hall of Fame; and more on Side B of Dave's baseball bonanza
Download
September 8, 2009
Mo Dameshek
It's a Pigskin Potpourri as Dave talks Trojans/Bucks; Ok State's new "fight song"; Seymour to the Raiders; plus a call to Dave's mom to find out how many NFL players she can name
Download
September 9, 2009
Dave puts the finishing touches on his NFL Preseason ProSHEKtions; plus fantasy news
Download
September 9, 2009
Ed Miller "The Ed"
Dave puts a call into beloved listener "The Ed" for his college football picks of the week
Download
September 10, 2009
Zach Rosenfield
Dave and the Blue Horseshoe examine the upcoming slate of college football games and make picks that they hope will turn out better than last week's
Download
September 11, 2009
Sal Iacono
Cousin Sal and Dave share their Best Bets for Week One in the NFL; plus, a review of their fantasy football draft and the Steelers/Titans opener
Download
September 14, 2009
D.J. Gallo
D.J. Gallo talks all things NFL, including Cutler, Delhomme, Polamalu, fantasy, and more; plus, some college pigskin talk to boot
Download
September 15, 2009
With week one in the NFL in the books, Dave reviews his preseason predictions; plus, ranking the best Patrick Swayze movies
Download
September 16, 2009
Ed Cunningham, Zach Rosenfield
Ed Cunningham and Accuscore's Blue Horseshoe discuss the state of USC and Ohio State after last week's game
Download
September 16, 2009
Ed Cunningham, Zach Rosenfield
Ed Cunningham and Accuscore's Blue Horseshoe talk Tate Forcier, Chaz Weis, the significance of the spread offense, and look ahead to Florida/Tenn
Download
September 17, 2009
Zach Rosenfield
Dave and the Blue Horseshoe run through their picks for this weekend's bounty of college football games
Download
September 18, 2009
Ed Miller (The Ed)
Dave goes over his NFL picks for Week Two with beloved listener/noted prognosticator, The Ed
Download
September 21, 2009
D.J. Gallo
The always-delightful D.J. Gallo on the weekend in pigskin
Download
September 22, 2009
Matt Williamson
Matt Williamson joins Dave to talk all things NFL, including: Jets, Saints, Steelers, Cowboys, and the success of so many young QBs
Download
September 23, 2009
Zach Rosenfield
Accuscore's Blue Horseshoe projects where 'The U', Penn State, Cincy and OU are headed; plus, he and Dave give their best bets of the weekend
Download
September 24, 2009
Dave gives his NFL picks and responds to the Sports Guy's vicious attack on 'The BS Report' earlier in the week
Download
September 25, 2009
"Hypothetical Horatio" investigates when a New Jersey Net is pulled from the Hudson in a pair of cement boots
Download
September 28, 2009
D.J. Gallo
D.J. Gallo joins Dave to discuss the abundance of lousy teams and the lack of great teams in both the NFL and college this season
Download
September 29, 2009
"Chris Berman", "Mel Kiper, Jr."
Dave reviews week 3 of the NFL season and updates his NFL Playoff ProSHEKtions accordingly
Download
September 30, 2009
Ed Cunningham, Zach Rosenfield
Ed Cunningham and Accuscore's Blue Horseshoe join Dave to talk about the fallacy of the polls and which teams have a legit shot at the BCS title game
Download
September 30, 2009
Ed Cunningham, Zach Rosenfield
Ed Cunningham and Accuscore's Blue Horseshoe join Dave for more college football talk; plus this Saturday's best bets
Download
October 1, 2009
Sal Iacono
Jimmy Kimmel Live's Cousin Sal joins Dave to give their best bets for week four of the NFL season
Download
October 2, 2009
Greg Wyshynski
Puck Daddy's Greg Wyshynski visits with Dave for a belated "preview" of the NHL season
Download
October 5, 2009
D.J. Gallo
D.J. Gallo joins Dave to discuss last weekend's football action, including the rash of flags for unsportsmanlike conduct
Download
October 6, 2009
Jonah Keri
Jonah Keri joins Dave for MLB playoff analysis and predictions
Download
October 7, 2009
Zach Rosenfield
Accuscore's Blue Horseshoe joins Dave to talk Tim Tebow, excessive celebration penalties, and the best bets for this Saturday
Download
October 8, 2009
Ed Miller (The Ed)
Dave calls beloved listener "The Ed" for help in picking this week's NFL games
Download
October 9, 2009
Eli The Intern
The latest Potpourri show recalls great moments with Dikembe, Shaq-Fu, Sir Ian McKellan, Morgan Freeman and more
Download
October 12, 2009
D.J. Gallo
D.J. Gallo joins Dave to discuss Orton over Brady, Bengals over Ravens, good sense over Limbaugh's Rams bid and more
Download
October 13, 2009
A. Martinez
Dave and ESPN LA's A. Martinez break down Dodgers/Phillies and Halos/Yanks, and also find time for some NFL talk
Download
October 14, 2009
Ed Cunningham, Zach Rosenfield
Ed Cunningham and Accuscore's Blue Horseshoe break down Okla/Tex and USC/ND, plus review Fla/LSU and look ahead to a possible Gators/Tide SEC matchup
Download
October 15, 2009
Zach Rosenfield
Dave and Accuscore's Blue Horseshoe brave apocalyptic Los Angeles precipitation and heightened building security before settling into Studio 66 to make their picks for the college football weekend
Download
October 16, 2009
Ed Miller (The Ed)
Dave employs the help of 'The Ed' and 'The Sass' as he makes his picks for Week Six in the NFL
Download
October 19, 2009
D.J. Gallo
D.J. Gallo joins Dave to talk NFL, including Favre, the AFC playoff picture, and the Pats' return to being evil
Download
October 20, 2009
"Chris Berman", "Mel Kiper, Jr."
Dave updates the NFL proSHEKtions and gives a surprising review of the Broncos' uniforms
Download
October 21, 2009
Zach Rosenfield
Accuscore's Blue Horseshoe gives his best bets for this Saturday, and Dave solves the BCS crisis by looking 20 years into the past
Download
October 22, 2009
Ed Miller (The Ed)
Dave makes his NFL picks for Week Six with the help of fan favorite, The Ed
Download
October 23, 2009
Jonah Keri
Jonah Keri joins Dave to preview the NBA's Eastern Conference, including LeBron's potential last season in Cleveland, the Orlando Tricks' overhaul and the Celtics' aged roster
Download
October 26, 2009
D.J. Gallo
D.J. Gallo joins Dave to break down Week Seven in the NFL, including: Sanchez eating a wiener, where Favre goes from here, the Chargers' road throwbacks and more
Download
October 27, 2009
Jonah Keri
Jonah Keri joins Dave to preview the World Series and the NBA's Western Conference, including the Lakers, Spurs and Blazers
Download
October 27, 2009
Jonah Keri
Jonah Keri continues his NBA Western Conference preview, focusing on the Clippers, Jazz and Thunder
Download
October 28, 2009
Ed Cunningham, Zach Rosenfield
ESPN college football analyst Ed Cunningham & Accuscore's Blue Horseshoe join Dave for their weekly rap session, including the USC/Oregon game
Download
October 29, 2009
Zach Rosenfield
Accuscore's Blue Horseshoe joins Dave for this weekend's best bets in college football, including: Texas/Ok St., GA/FLA and USC/Oregon
Download
October 30, 2009
"Chris Berman", "Mel Kiper, Jr."
Dave and the Sass give their picks for Week 8 in the NFL; "Mel Jr's" thoughts on Sam Bradford
Download
November 2, 2009
D.J. Gallo
D.J. Gallo joins Dave for their weekly NFL review, including Favre getting booed, who'll win the NFC East, and who's the least bad team in the NFC West
Download
November 3, 2009
Jonah Keri
Jonah Keri joins Dave to for a comprehensive preview of Game 6 (and possibly Game 7) of the World Series
Download
November 4, 2009
Zach Rosenfield
Accuscore's Blue Horseshoe joins Dave for their weekly college football chat, including Urban Meyer, the likelihood of FLA/TX and this weekend's best bets
Download
November 4, 2009
Cole Hamels
Dave digs up his interview with Cole Hamels just after he was named MVP of the '08 World Series
Download
November 5, 2009
Dave and The Sass discuss the significance of the Yankees 27th World Series Championship
Download
November 5, 2009
Dave runs through his Week 9 National Football League picks with The Sass
Download
November 9, 2009
D.J. Gallo
D.J. Gallo joins Dave to talk Patriots/Colts, the cream of the crop in the NFC, and Andre Agassi's hair
Download
November 10, 2009
Peter King
Dave talks regional rivalries and the state of the NFL with Sports Illustrated's "Monday Morning Quarterback" columnist Peter King
Download
November 11, 2009
Zach Rosenfield
Dave and Accuscore's Blue Horseshoe run through the final installment of their weekly best bets in the world of college football
Download
November 11, 2009
Dick Banks, Jonah Keri, A. Martinez, The Ed (Ed Miller)
Dave and The Sass bid farewell to Studio 66 with the help of pod-friends Jonah Keri, A. Martinez, The Ed, and Dick Banks
Download